Don't

brush those sweet

pregnancy cravings

away– here are 9 healthy sweets for these 9 months!
Pregnancy is a time of joy and anticipation, and along with it often comes an increase in cravings, especially for sweets. While it is important to indulge in moderation and make mindful choices, there is no need to completely brush away those sweet pregnancy cravings. In fact, there are plenty of delicious and nutritious options that can satisfy your sweet tooth while supporting a healthy pregnancy. Read on to explore nine healthy sweets that can add a sweet kick to your pregnancy while satisfying and nourishing you!  
One Sweet For Each Month – 9 Healthy Sweets 
Are you ready to discover some delightful treats that will make your pregnancy journey even sweeter? These nine healthy Indian sweet options are perfect for pregnant women to enjoy throughout their nine-month journey.  
Month 1: Dates and Nuts Ladoo
A nutritious and energy-boosting sweet ball made with dates, mixed nuts, and a hint of cardamom for flavor.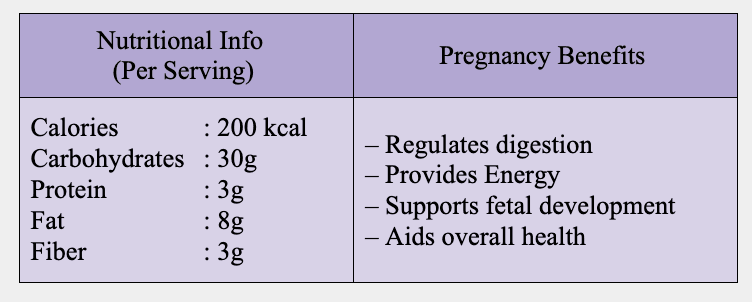 Month 2: Ragi (Finger Millet) Halwa
A traditional Indian dessert made with ragi flour, jaggery, and ghee. Contains iron, calcium, and is delicious! 

A rich and aromatic sweet made with freshly grated coconut, condensed milk, and a touch of saffron.

A crispy sweet treat made with flattened rice (poha), jaggery, roasted nuts, and a bit of shredded coconut. 
Month 5: Moong Dal Payasam
A comforting and creamy dessert prepared with split yellow lentils (moong dal), jaggery, and coconut milk. 
Month 6: Kaju Katli (Cashew Burfi)

 
A popular sweet made with ground cashews, sugar, and cardamom, offering a melt-in-your-mouth experience. 

A classic dessert of grated carrots, milk, ghee, and a sprinkle of nuts to highlight the carrot's natural sweetness.

Month 8: Anjeer (Fig) Barfi
Made with dried figs, khoya (reduced milk), and pistachios mixed together to get a unique texture and flavor.  

Month 9: Sesame Ladoo (Til Ladoo)
A nutritious sweet rich in healthy fats and made with roasted sesame seeds, jaggery, and a hint of cardamom.  
Conclusion: Let Your Cravings Guide the Way! 
You deserve to get all your cravings satisfied during your pregnancy. And the best part? These treats not only satisfy cravings but also provide essential nutrients for a healthy pregnancy. Remember to consume these sweets in moderation and discuss your dietary needs with a nutritionist for more personalized support. Let your cravings guide you towards these delightful sweets and  make  your pregnancy sweeter than ever before!