Certified dietitian's tips on how to lose weight with PCOS– it is never impossible!
Polycystic Ovary Syndrome (PCOS) is more than just a medical condition, it becomes a part of your life and lifestyle. For those dealing with PCOS, the battle against weight gain especially, can be an uphill one. The hormonal imbalances inherent in PCOS can even make it harder to lose weight. While it can leave you feeling hopeless, we assure you that weight loss with PCOS is possible with the right support. With the guidance of certified dietitians and a personalized approach, you can shed those extra pounds and regain your confidence! Read on to learn how you can navigate this complex journey and take control of your health again.
How to Lose Weight With PCOS:

Answering Your Queries

(FAQs)
When it comes to PCOS management, weight loss often takes center stage as a common concern. As one of the top PCOS dietitians in India, dt. Richa Doshi is often faced with so many doubts about losing weight with PCOS. Here are some of the most common queries, addressed with clarity and expertise. Remember, the journey to weight loss with PCOS is a gradual and personalized one. With dedication, professional guidance, and a positive mindset, you can overcome the challenges and embrace a healthier lifestyle.
Can you lose weight with PCOS?
–  Absolutely, yes! While PCOS can make weight loss more challenging due to hormonal imbalances, it is entirely achievable with the right approach. Focus on balanced meals, portion control, regular physical activity, and mindful lifestyle choices to manage weight effectively. Always feel free to consult a dietitian if you feel like the changes you make are not working. 
Can weight loss cure PCOS?
– Weight loss won't entirely cure PCOS, but it can substantially improve symptoms like irregular periods and insulin resistance. Unfortunately, there is no ultimate cure for PCOS. A holistic approach involving diet, exercise, and sometimes medical intervention can lead to remarkable changes in your well-being though.
How to lose weight with PCOS and Hypothyroidism?
– Losing weight with both PCOS and hypothyroidism might require a tailored approach. Consulting a healthcare professional is crucial to designing a plan that addresses both conditions. Make sure you consult a dietitian who is familiar with your unique conditions to help you balance nutrient intake, manage insulin resistance, and optimize thyroid function while losing weight. 
Can weight loss reverse PCOS symptoms?
– While PCOS can't be cured completely, there are instances where people have managed to completely reverse PCOS symptoms with dietary and lifestyle modifications. By managing insulin resistance and hormonal imbalances through weight loss, you can experience reduction or even complete alleviation of your symptoms. 
Will a diet change help in losing weight with PCOS?
– Yes, a well-crafted diet change can be a cornerstone of weight loss in PCOS. However, remember that not every PCOS diet online won't work for everyone. There are certain foods and ingredients you can prioritize to manage your PCOS, but it is always better to consult a certified dietitian to help you choose a personalized diet plan. Make sure you also incorporate lifestyle modifications such as exercise and better sleep habits to make your weight loss journey easier. 
10 Foods That Help Lose Weight With PCOS
Navigating weight loss with PCOS can be intricate, but your choices in the kitchen can make a significant difference.

Here are 10 common foods in your diet that might be helping you out or hindering you on your weight loss journey.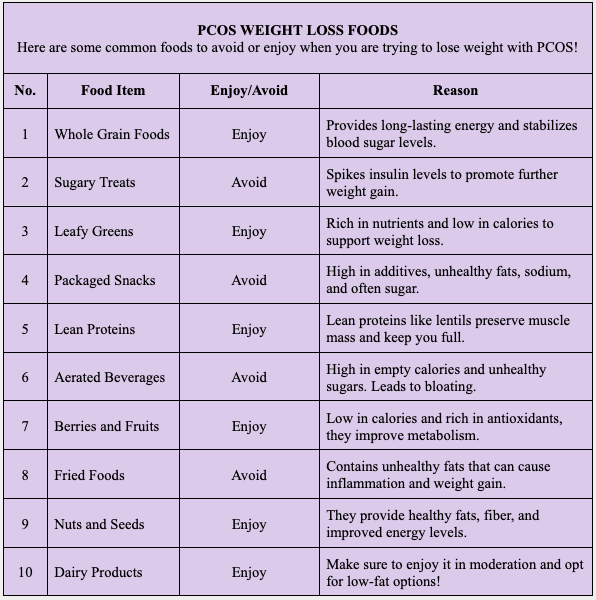 Conclusion:
PCOS Doesn't Have to Hold You Back! 
Remember, PCOS might be a part of your journey, but it doesn't define your destination. With the right knowledge, support, and diet planning, you can achieve your fitness goals just like anyone else! Reaching out to a certified dietitian can definitely give you more insight on how to lose weight with PCOS. Take the first step towards healing today by making small changes.