How your love of chai could make your weight loss journey easier
Monsoon is here and the rains are cooling down the world around. Is there any time more perfect than this for a steaming hot cup of chai? Chai or Tea is already a deeply ingrained part of our lives. Chai signifies friendship, office breaks, or even sharing a cookie with your mom. But there is more to chai than just nostalgia and taste. Are you a chai lover who has been trying to lose weight? Then this blog is for you! 
Incorporating chai into a weight loss journey can be a delicious way to support your goals. Tea offers a variety of flavors and blends that can be enjoyed hot or cold. But beyond this delightful taste, research shows that tea can actually help you lose weight. By making mindful choices and incorporating chai into your routine, you can add a flavorful twist to your weight loss journey! 
5 Tips to Add Chai to Your Weight Loss Journey 
While chai can help you lose weight, it is not enough to simply consume large amounts of it whenever you want to. Effectively incorporating tea into your weight loss regimen takes a little bit of effort. But if you already love chai, why not take the time to reap its benefits too? Here are 5 things to consider when choosing your weight loss tea. 
Choose the Right Chai Blend

 
It is important to select chai blends that are low in added sugars and artificial flavors as they tend to have a higher calorie content. Opting for chai blends that contain metabolism-boosting ingredients like cinnamon, ginger, or green tea can speed up your weight loss journey. 
Mindful Preparation Techniques

 
When preparing chai, using low-fat milk and avoiding excessive sweeteners can help keep the calorie content in check. Brew your chai at the right temperature and steep it for an appropriate duration to extract the flavors and health benefits effectively.  
Consuming chai in the morning can help kickstart your day by providing a boost of energy and metabolism. Consuming chai at night is not recommended, as its caffeine content interferes with sleep quality, negatively affecting weight management. 
Complimentary Healthy Diet

 
It is important to pair chai with healthy food choices to support weight loss goals. Incorporating whole grains, fruits, vegetables, and lean proteins alongside your chai can provide essential nutrients, fiber, and protein, helping you feel fuller and more satisfied. 
Physical Activity Support

 
Physical activity is crucial for weight loss. Chai can be enjoyed as a refreshing beverage before or after workouts. You can also consider using tea breaks as a reward for completing exercise routines. This can help create a positive association with physical activity too! 
Different Chais, Different Benefits
There are thousands of types of tea out there. That means no matter how long your weight loss transformation might take, you will always have a fresh new cup of chai to try out. If you are just entering the world of tea, here are some of the easiest weight loss Tea or chais to start with.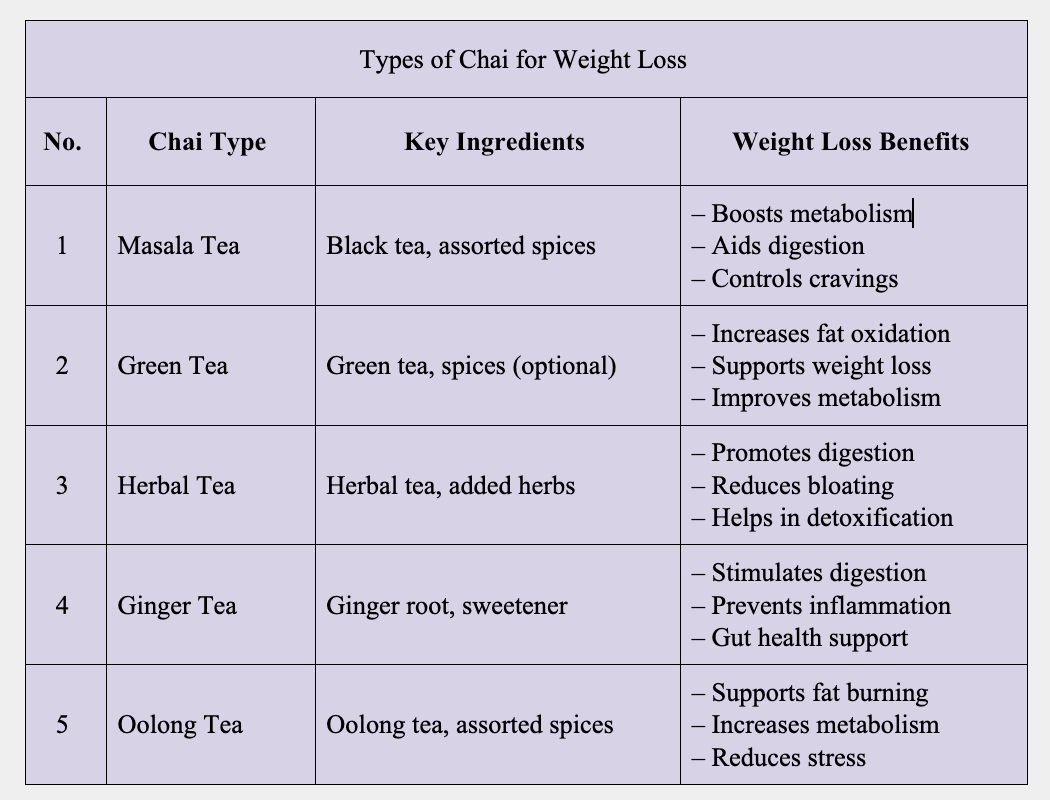 Conclusion: Delicious Path to Weight Loss 
Weight loss journeys are highly individualized. So it is important to approach chai consumption and weight management without a crowd mindset. It is always better to consult with a certified dietician for the most accurate chai recommendations for your journey. Make your way to a healthy body with a delicious cup of chai, starting today!