Get answers to all your PCOS doubts from the top PCOS dietitian in India here.
Polycystic Ovary Syndrome, commonly known as PCOS, is a condition that affects many aspects of a woman's well-being. Although many people consider PCOS as a condition that delays your period, it is so much more than that. Navigating life with PCOS can present a range of challenges that extend beyond the physical realm.  From hormonal imbalances to potential fertility concerns, PCOS brings its unique set of hurdles. 
Whether you find yourself with a definite PCOS diagnosis or suspect that you might have it based on certain symptoms, it is no joking matter.

PCOS must be identified and treated at the earliest so that it does not cause permanent health issues. We know how overwhelming all of this can sound, but remember, it all starts with a single step– identifying your PCOS symptoms.

The path might be tough, but solutions, support, and resources are available to help you out. So, begin your journey towards a life free from PCOS symptoms with a simple checklist and all the answers you need to navigate your health!
Watch Out For These 5 PCOS Symptoms
PCOS can be a complex and challenging condition to deal with. If you suspect you might have PCOS or are already living with it, being aware of the symptoms is crucial for early detection and effective management. PCOS symptoms can often vary from person to person, both in their severity and in how they present themselves.  Here are five key symptoms to watch out for if you suspect you might have PCOS.
PCOS often disrupts the regularity of menstrual cycles. If you notice unpredictable or missed periods and extremely heavy or light flow, it could be an indication of PCOS hormonal imbalance.
Unwanted thick hair growth on the face, chest, or back, known as hirsutism, can be a visible sign of PCOS. This occurs due to elevated androgen levels and can really affect your confidence. 
Hormonal fluctuations in PCOS can lead to persistent acne, oily skin, or even dark patches known as acanthosis nigricans. These issues can persist even with the best skincare routines.
Many individuals with PCOS struggle with weight management. Insulin resistance, often linked to PCOS, can make gaining weight really easy while losing it is made almost impossible. 
PCOS can affect ovulation, leading to fertility issues. PCOS might be a factor if you are trying to conceive and facing difficulties.
You can use the checklist below to identify PCOS symptoms in your daily life. If you answer yes to 3 or more of these, we recommend a visit to your doctor at the earliest!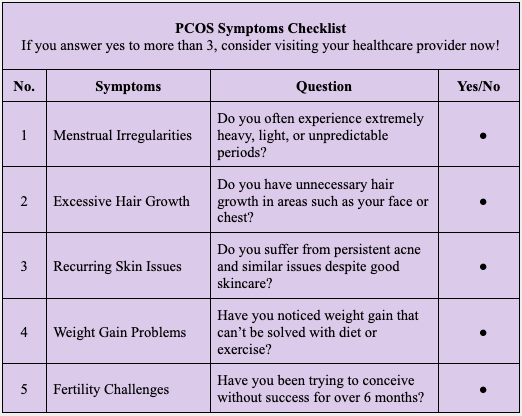 Answering Common PCOS Questions (FAQs)
We often find many of our clients confused about how a diet and a few lifestyle changes can help them overcome PCOS. As the top PCOS dietitian in India, dt. Richa Doshi always makes sure that each woman suffering from PCOS is not burdened with misinformation or unanswered questions. If you are struggling to make sense of these same questions, here are all the answers you need. 
How do you get PCOS symptoms, how to test for them?
–  PCOS symptoms arise due to hormonal imbalances. Common indicators include irregular periods, excessive hair growth, acne, weight gain, and fertility issues. Remember that the presence and severity of these symptoms can vary from person to person. To diagnose PCOS, a healthcare provider conducts physical exams and tests to assess hormone levels and ovarian health.
How long does PCOS last and can PCOS be cured?
– PCOS is a chronic condition and so it unfortunately has no cure. But PCOS symptoms can be managed effectively, or even reversed, with proper medical care, curated diets, and lifestyle adjustments. While there is no cure, managing symptoms with our holistic approach can help you lead a fulfilling life without sacrificing your happiness. 
How to cure PCOS symptoms?
While there's no single "cure" for PCOS as said earlier, symptoms can be managed through a combination of lifestyle changes and, in some cases, medications. Adopting a balanced diet, regular exercise, stress management, and maintaining a healthy weight can contribute to alleviating symptoms. Working with a certified PCOS dietitian can help you understand exactly what your body needs to fight PCOS. 
How much does PCOS affect fertility?
PCOS can have a notable impact on fertility due to irregular ovulation. However, many individuals with PCOS can conceive with appropriate medical intervention and lifestyle modifications. Our PCOS diet plans are formulated depending on your needs, which include fertility care so that you can start your dream family despite any PCOS struggles. 
How much does PCOS affect weight?
Weight management can be challenging for individuals with PCOS due to insulin resistance. Some may experience weight gain, others may find it difficult to lose weight, and some might experience both of these together. A healthy lifestyle, including a well-balanced diet and regular physical activity, can help manage weight and improve overall well-being.
Conclusion:
PCOS Does Not Have to be the End!
PCOS might present its challenges, but it's important to remember that it's not a dead-end road. With the right strategies and support you can navigate the complexities of PCOS and emerge stronger. Whether it's managing symptoms, improving fertility, or achieving a healthier weight, an experienced PCOS dietitian can help you achieve your goals. PCOS is just one chapter of your story, and it doesn't have to control your life forever.