The remarkable influence of gut health on weight management, PCOS, and thyroid
The best way to make a decision is to go with your gut. But what if we told you that the best way to manage weight, PCOS, and thyroid symptoms is also in your gut? It's true, research shows that maintaining good gut health is crucial for overall well-being, as it affects various aspects of our health. In this blog, we will explore the impact of your gut health on weight management, PCOS, and thyroid function.  
By understanding this gut health connection, you can finally take the steps needed to optimize it and improve the quality of your life. Everything you need to know about your gut is right here, straight from the best dietitian in Mumbai! 
The Gut Health Connection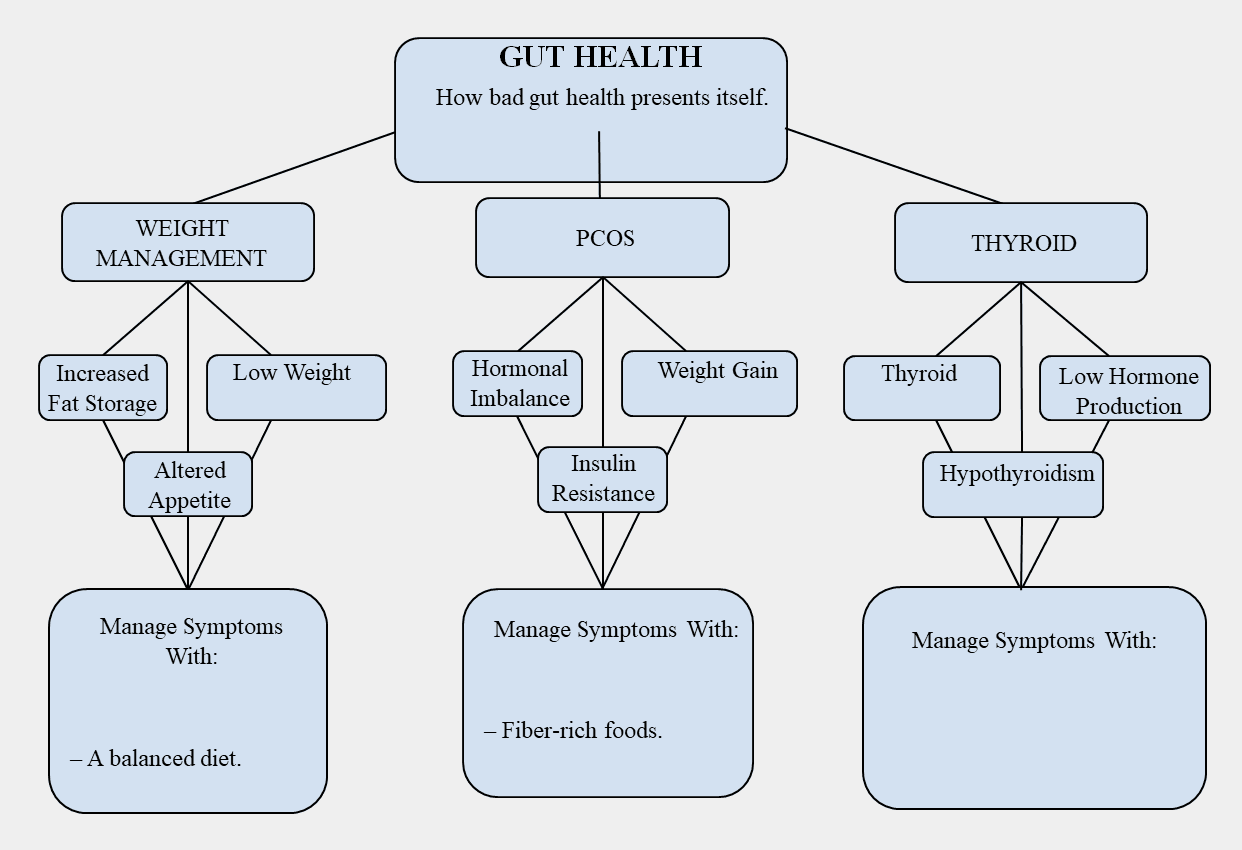 Gut Health and Weight Management

 
Healthy gut microbiota play a significant role in weight management. An imbalanced gut microbiome can often lead to increased fat storage and difficulty in losing weight. The composition of gut bacteria also influences appetite regulation and metabolism, affecting your ability to stay or feel full even after eating enough. By prioritizing gut health through a balanced diet, regular exercise, and stress management, you can make weight management a little easier.  
Polycystic ovary syndrome (PCOS) is a hormonal disorder that affects women around the world. Gut health is closely linked to PCOS by medical professionals. An imbalanced gut microbiome can contribute to hormonal dysregulation and insulin resistance, which are key PCOS symptoms. You can improve your gut health through dietary modifications, stress management, and regular exercise. This increases your overall health while potentially alleviating PCOS symptoms. 
Gut Health and Thyroid Function 
The thyroid gland is behind the regulation of metabolism, energy levels, and hormone production in your body. But, did you know that the gut microbiota and the thyroid are interconnected through the gut-thyroid axis? An unhealthy gut can contribute to thyroid dysfunction and disorders. By improving your gut health with a balanced diet, probiotic supplementation, and lifestyle adjustments, you can support optimal thyroid function and even reverse those pesky symptoms in time.  
5 Dietitian's Tips for a Healthy Gut 
Even if you don't suffer from weight management, PCOS, or thyroid issues, it is important to keep your gut healthy. After all, prevention is better than cure! Here are some simple tips from the best dietician in Mumbai to help you take care of your gut on the go. 
Consume a diet rich in fiber

by including fruits, vegetables, whole grains, and legumes in your meals to nourish the beneficial microorganisms in your gut. 

 

Incorporate fermented foods

such as curd, cheese, sauerkraut, and kimchi into your meals. These funky flavors introduce beneficial bacteria into the gut.

 

Reduce chronic stress

that negatively affects your gut health. Engage in stress-reduction activities such as peaceful hobbies, meditation, and yoga.

 

Stay sufficiently hydrated

by drinking at least 8 glasses of water daily. This helps your gut with digestion, nutrient absorption, and waste elimination.

 

Limit processed foods

, especially if they are high in added sugars as they disrupt your gut bacteria and lead to inflammation in the gut. 

 

 
Conclusion: Go With Your Gut! 
Yes, gut health really is that critical to your body's smooth functioning! Whether you are experiencing trouble with your weight management, PCOS, or thyroid function, give these tips a try.  Remember, small changes can make a big difference in improving your quality of life. So, in this case, we would strongly suggest that you go with a healthy, happy gut!