3 common food mistakes to avoid during pregnancy–

don't

worry, we have plenty of solutions!
Congratulations on your pregnancy! We hope that this joyous time in your life has given you enough reasons to glow. But, we get it– pregnancy is not always the fairytale that books or movies present it to be. You might be wondering where that luscious hair, smooth skin, or heavenly glow that the mainstream media promised you are.  
So, why exactly does it seem like all you are experiencing are the negative sides of pregnancy when all you want to do is enjoy the beauty of it? The answer is quite simple, there are some common mistakes in your diet that could be behind all your troubles. Let's take a look at the 3 most common of these food mistakes and how to avoid them. 
3 Food Mistakes to Avoid When Pregnant 
The average Indian kitchen is a universe of health and nutrition. Indian cuisine is known to be balanced, healthy, and absolutely delicious. But some common mistakes made in these kitchens, while not so prominent normally, might really affect you while pregnant. In fact, you might still be doing it without really knowing the harm it's been causing.   
Wondering why your pregnancy isn't giving you that healthy glow? Here are 3 foods to avoid in pregnancy that might be behind this. And don't worry, we'll tell you exactly how to avoid them! 
Reusing cooking oil is something that happens in almost every kitchen. Often, we believe we are being thrifty or saving some money by reusing the same oil multiple times for cooking. While it is harmful to everyone, the effects of reusing cooking oil can be more during pregnancy.  
Reheating oil repeatedly causes the breakdown of its chemical structure, leading to the production of toxic substances that cause inflammation, oxidative stress, and even cardiovascular disease. Always use fresh oil! 
Storing food at incorrect temperatures or in unclean containers not only causes deterioration of the food but also causes harm to the people consuming it. Improper storage could mean anything from dirty refrigerators to leaving cooked food outside.  
Improper food storage conditions allow bacteria to multiply rapidly, increasing the risk of foodborne illnesses caused by pathogens. Follow proper food storage guidelines and discard any expired or spoiled food.  
Unpasteurized Dairy Products

 
Consuming unpasteurized or raw milk and dairy products might not seem like a big deal but they often contain harmful bacteria which can cross the placenta and infect the fetus, leading to severe complications for both the mother and child.  
While we all know how delicious fresh milk can be, it is safer to choose pasteurized dairy products at least during your pregnancy. Also, avoid consuming soft cheeses like paneer unless they are labeled pasteurized.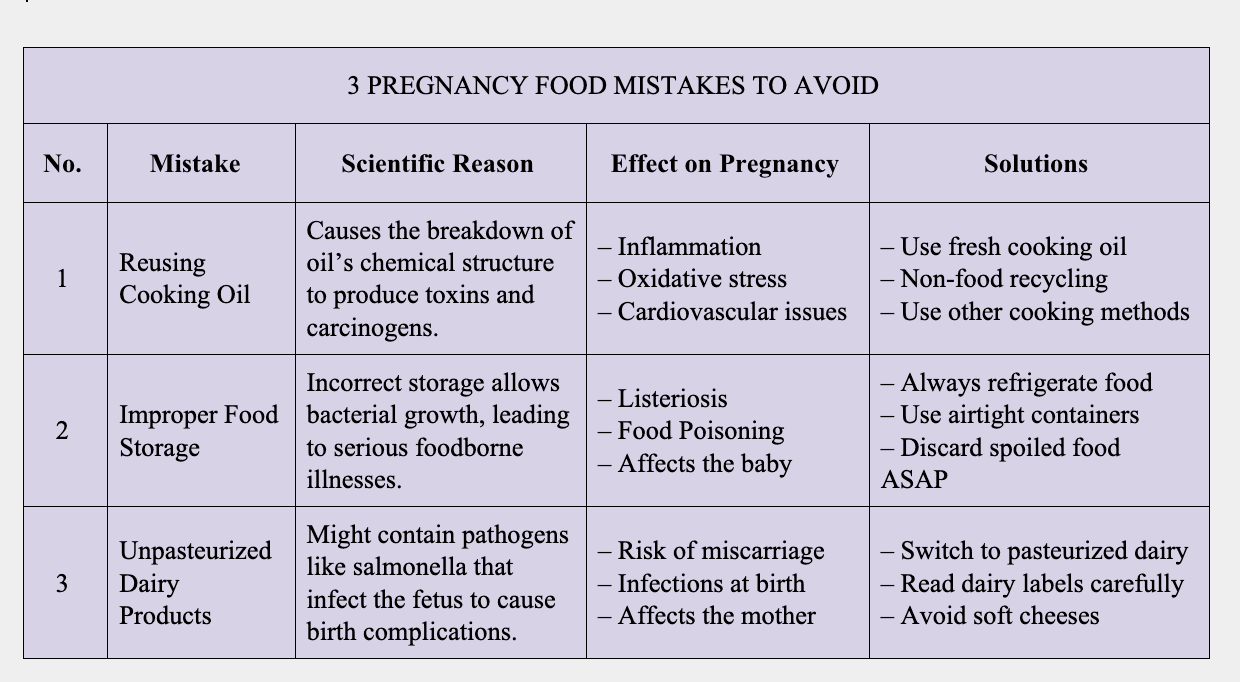 Pregnancy Food Mistakes
: All You Need to Know! 
If you need to remember anything about these food mistakes during your pregnancy, here is a table with everything you need to know. Feel free to customize it with your dietician to make it more in tune with your specific requirements. 
Conclusion: Whom to Trust With Pregnancy Nutrition?
Everyone has an opinion on your nutrition when you are pregnant. You might have even had random strangers advising you on the street! But, can you blindly trust all these well-meaning and yet mostly unscientific pregnancy diet suggestions? Don't take that risk! It is essential to trust reliable sources when it comes to pregnancy. Consult our certified dietitian or nutritionist who specializes in prenatal nutrition for personalized guidance, tailored meal plans, and the right nutritional advice. Relying on expertise will help you make informed choices and maintain a healthy pregnancy diet plan throughout your glowing pregnancy journey.