Get expert dietitian's tips on what to eat and avoid when creating a diet chart for thyroid patients!
Thyroid disorders, whether hypothyroidism or hyperthyroidism, can have many physical and mental impacts on your life. The unpredictable nature of thyroid function can lead to weight fluctuations, fatigue, and emotional distress. For those dealing with thyroid weight gain and the frustration of failed dieting attempts, it can seem like there is no hope left. But we are here to tell you otherwise! 
We understand that weight management isn't just about aesthetics, it's also about your mental and physical health.
While that crash diet chart for thyroid patients trending online today might help you lose weight for a while, there is no way such unhealthy measures can provide you with long-term well-being.
Here, we will dive into the eats and don't eats of thyroid health. Coming from the top dietitian in India, these tips can help you take control of your fitness journey despite your thyroid troubles.
You can always consult Dt Richa Doshi directly for more personalized and effective Diet Chart for Thyroid!
What to Eat to Lose Weight With Thyroid? 
When aiming for weight loss with thyroid concerns, it is essential to focus on foods that support thyroid function and metabolism. Most diets you find online are focused on helping you lose weight quickly. But the only way to really thrive despite thyroid issues is by choosing diet options that help you lose weight in a healthy manner. 
An effective diet chart for thyroid patients should include beneficial components like– 
Iodine: Essential for thyroid hormone production.
Selenium: Helps regulate thyroid hormone metabolism.
Fiber: Aids digestion and increases satiety.
Lean Proteins: Support muscle mass and metabolism.
Healthy Fats: Assist in hormone production.
Complex Carbohydrates: Provide sustained energy.
Hydration: Supports metabolic processes.
While these components are essential, remember that an overall balanced and portion-controlled diet is key. Consulting an experienced thyroid dietitian can go a long way in your weight loss journey. 
What to Avoid to Lose Weight With Thyroid? 
Certain common foods can potentially hinder thyroid function and impede weight loss when consumed in excess. These foods often contain substances known as goitrogens or have properties that can interfere with thyroid hormone production or absorption. Additionally, some foods may contribute to inflammation, exacerbating thyroid-related issues. 
If you are trying to lose weight with thyroid, avoid foods that contain components like– 
Processed Sugars: Can lead to blood sugar spikes.
Highly Processed Foods: Often contain unhealthy additives.
Excess Caffeine: This may disrupt thyroid function.
Trans Fats: Harmful for heart health and metabolism.
Excessively Salty Foods: Can affect blood pressure.
Heavy Alcohol Consumption: Can disrupt thyroid function.
Empty-Calorie Snacks: Provide little nutritional value.
Remember, these components are generally unhealthy. By consulting with a certified dietitian, you can understand exactly which components are more harmful to your unique thyroid condition. 
Diet Charts For Thyroid Patients– All Questions Answered! 
When it comes to managing thyroid conditions, diet plays a pivotal role. A well-crafted thyroid diet chart can support thyroid function, alleviate symptoms, and aid in weight management.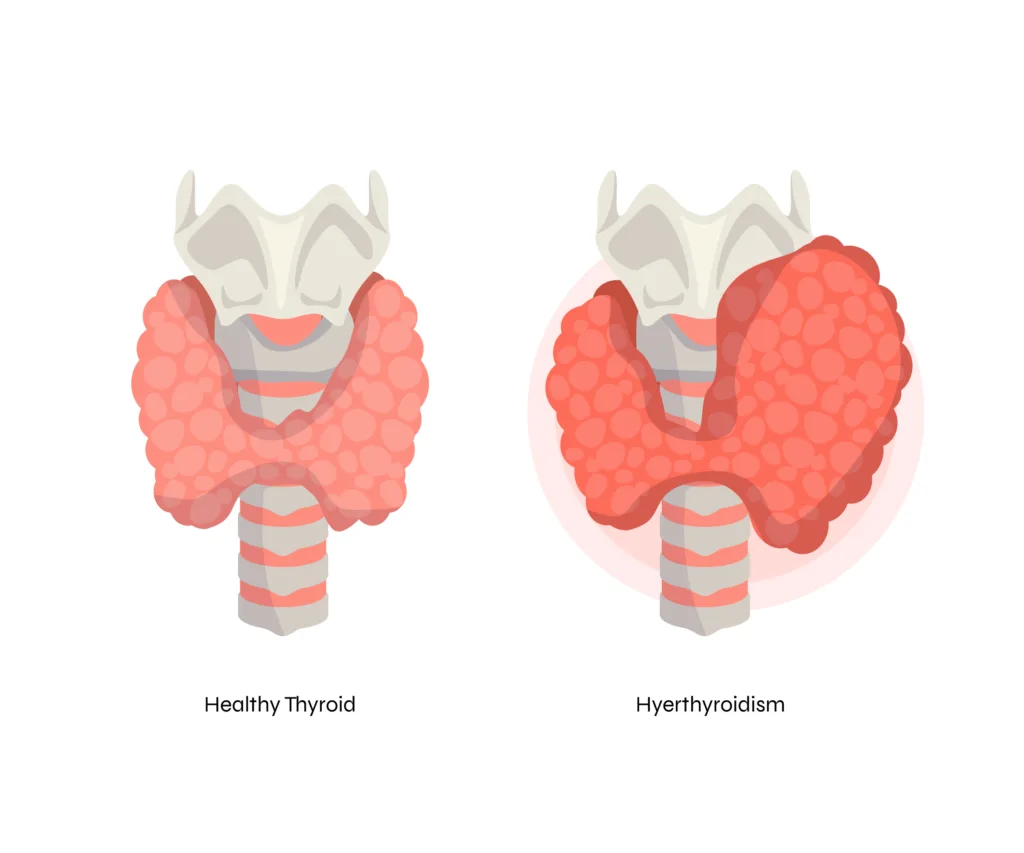 Whether you're dealing with hypothyroidism or hyperthyroidism, the best way to lose weight is by consulting a dietitian for an utterly personalized thyroid diet chart.
While you may find a lot of diet charts for thyroid patients online, claiming to have helped hundreds of people, the healthiest option for your body is a certified dietitian. While we may not be able to recommend you the "ultimate diet chart for thyroid patients", we can help you find out what elements of your meals could be helping or hurting you.
These are some of the most frequent questions dt Richa Doshi comes across when working with thyroid patients.  
Which fruits are good for thyroid?
Fruits rich in antioxidants and vitamins are beneficial for thyroid health. Opt for berries, such as blueberries and strawberries, as they are packed with antioxidants. Also, include fruits like oranges, which provide vitamin C, and bananas for their selenium content. These nutrients support thyroid function. 
Can milk be consumed with thyroid?
Yes, milk is generally acceptable to consume with thyroid conditions. It's a good source of calcium and vitamin D, which are essential for bone health, especially for individuals with thyroid issues. You can always have milk unless you have lactose sensitivity or intolerance. 
Which flour is good for thyroid?
Whole grains like whole wheat flour, oats, and brown rice are excellent choices. They provide fiber and nutrients that can help stabilize blood sugar levels, which is beneficial for thyroid health. It is better to avoid flours and processed grains as they may cause blood sugar spikes. 
Is egg good for thyroid?
Yes, eggs are a valuable source of protein and essential nutrients like selenium and iodine, both of which are important for thyroid function. Including eggs in your diet, in moderation, can contribute to overall thyroid health. 
Is there any exercise to help with thyroid?
Regular exercise, such as aerobic activities like brisk walking, cycling, or swimming, can be beneficial for thyroid health. However, it is essential to consult with a healthcare provider or fitness expert to create a safe and personalized exercise plan tailored to your specific needs.

 
Are soy chunks good for thyroid?
Soy chunks, like other soy products, contain goitrogens that can affect thyroid function when consumed in excessive amounts. Moderation is key; occasional consumption is generally fine, but it's best not to overindulge. 
Should coffee be avoided with thyroid?
Coffee, when consumed in moderation, is usually well-tolerated by individuals with thyroid conditions. However, excessive caffeine intake can disrupt sleep patterns and potentially affect thyroid function, so it's wise to limit your coffee consumption. 
Is it okay to eat raw greens with thyroid?
Consuming raw greens like spinach or kale occasionally is generally safe and nutritious. However, if you have a history of thyroid issues, consider cooking these greens as that reduces their goitrogenic potential. 
Are salty foods bad for thyroid?
Excessive salt intake can be problematic for thyroid health, as it may lead to elevated blood pressure and potential interactions with thyroid medication. It's advisable to limit your salt intake and opt for healthier seasoning alternatives like herbs and spices. 
Conclusion:
The Best Thyroid Weight Loss Solution  
When embarking on a weight loss journey with thyroid concerns, it's clear that there is no one-size-fits-all solution. Thyroid conditions vary, and their impact on weight management can be complex. However, amidst this complexity, there is one clear path ahead– a personalized thyroid diet chart from a certified dietitian. 
By working closely with a professional, you can ultimately achieve more successful and sustainable weight loss outcomes. Remember, your journey to a healthier weight with thyroid concerns can be challenging, but it's a journey worth taking with the right support by your side!